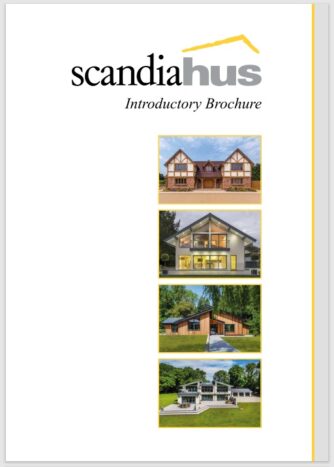 Ordering your Scandia-Hus brochure couldn't be easier. Simply choose whether you'd prefer a full printed version to be sent to you by post or if you'd like to download the brochure as a pdf file. Both options are free of charge.
Our brochure contains information, advice and inspiration for your self build project. It includes a section on what timber frame is and why you should build with it, what's really involved in building your own home, as well as why you should choose Scandia-Hus.
To obtain your brochure, please complete the form below.
We also have our 'Book of Inspiration' and 'Contemporary Designs Brochure' available, both of which are full of home design ideas for your self build. With 3D images, elevations, dimensions and floorplans, you'll be able to begin planning the look and layout of your new home with ease. All the designs are flexible, as we offer a bespoke service to our clients, so all plans can be altered to suit you, your plot and your budget.
Click here for our 'Book of Inspiration'.
Click here for our 'Contemporary Designs Brochure'.
By submitting your information into this form you are agreeing to the terms set out in our privacy policy