Single Storey Stepping Stone
Dan and Kelly Edwards had built a life for themselves in Cranbrook, with their home and work based within the Kent town, when Kelly fell pregnant with twins. They quickly needed to upsize their home and were adamant that they wanted to stay in the area. Unfortunately, because of the desirable location, increased house prices meant that a property with an additional bedroom was out of their budget. They had to look at different options.
Dan began researching and came up with the idea of building a house, making a little money, and repeating the process until it gave them enough capital to construct their own dream home. The money from the sale of their current property would be needed to finance the build which felt risky to Kelly. She needed some persuading.
Dan's Swedish heritage meant he was familiar with timber frame construction, and after coming across local company Scandia-Hus decided it would be useful to visit their show home in East Grinstead. Once Kelly had seen the outstanding specification and stunning contemporary finish of the 'Adelia', she was convinced. The couple loved the feeling of warmth, light and space and could imagine bringing up their family in a home just like it. And so the decision was made to proceed down the housebuilding route, Dan and Kelly sold their home and moved into local rented accommodation.
They were lucky enough to discover a plot nearby that had planning permission already in place for a two-bedroom bungalow, an ideal first project. The land was originally part of the neighbouring gardens but was sectioned off to sell. The location was perfect, being right around the corner from where they were staying, Dan could easily project manage and be on site daily. They were unlikely to ever find something more suitable, so they took the plunge – the income from their house sale was used to purchase the plot, and their self-build journey began.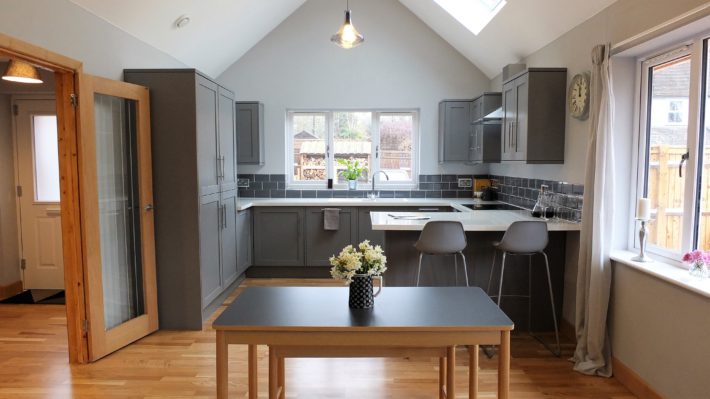 They took the plans for the bungalow to Scandia-Hus, altered them slightly – adding a vaulted ceiling in the open plan living area and a Velux window in the kitchen to add a feeling of light and space – and commissioned the timber frame to be manufactured. Dan completed the groundworks himself, not an easy feat considering the torrential rain they endured, ready for the blockwork to be laid in readiness for the timber frame. Disappointingly the local bricklayer they had subcontracted to carry this out let them down last minute. It was a stressful time as the timber frame delivery had been scheduled and so it was with slight panic in his voice he contacted Scandia asking for assistance. Fortunately, a replacement was found and progress could continue.
Dan worked tirelessly, visiting the build every day, organising trades, as well as continuing to run his own landscape business full-time. Kelly helped where she could, solving issues when they inevitably occurred, but with three young children in tow, it was not an easy task. There were a lot of early mornings and late evenings involved, but after six months the property was complete, and the couple should be extremely proud of what they have created.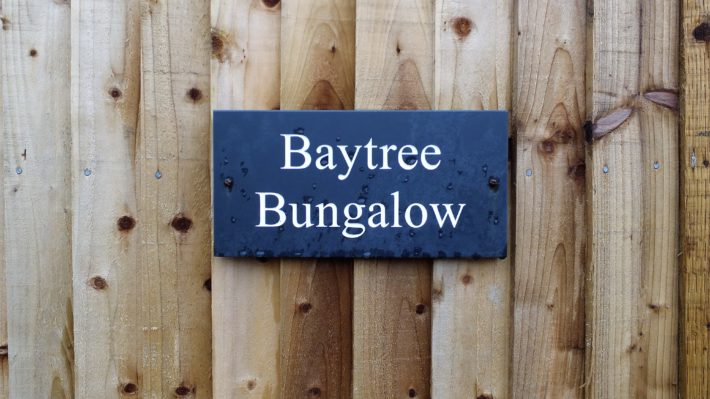 Baytree Bungalow is hidden from view by a row of cottages and is accessed by a discreet driveway positioned between these houses. An unassuming exterior greets you at the end of the drive, but appearances can be deceiving. The high specification and contemporary interior contrasts to the traditional external cladding of brick and clay tiles. As you step into the space the tell-tale signs of a Scandia-Hus are present; it is warm, comfortable and light making you feel instantly at home. This is achieved by high levels of insulation, underfloor heating and the quality fixtures and fittings chosen.
Amending the plans to include a vaulted ceiling in the open plan area has certainly paid off, the resulting room looks stunning and feels like it was made for modern living. It's no surprise that this is the couple's favourite space in the bungalow. Pendant lights hang from the beam at the apex of the ceiling, shining light onto the kitchen, dining and living areas. The grey shaker style kitchen cabinets team stylishly with on-trend metro tiles and a marble worktop, all of which is further highlighted by the sun streaming through the Velux roof window above.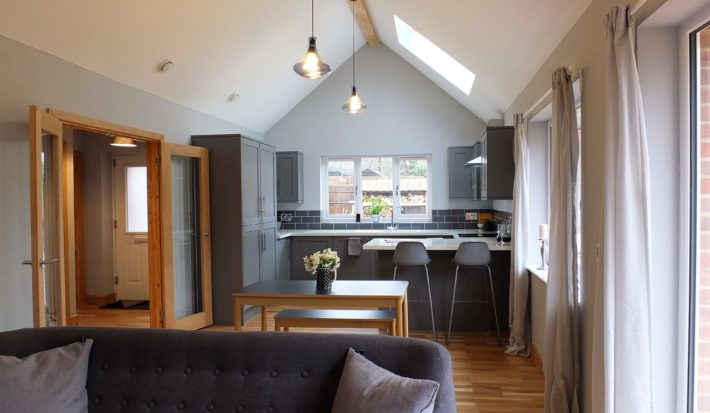 Sustainability was of great importance to the couple when they embarked on the project, they wanted to be as eco-conscious as their funds could afford. This was a key factor when choosing timber frame for the construction, as this method is one of the most environmentally friendly options available. The property also benefits from an air-source heat pump, recommended by Scandia-Hus who have extensive knowledge of renewable energy. Dan and Kelly would like to include more eco elements in their next project.
Baytree Bungalow is now on the market, as it was only ever intended as a stepping stone on their journey. Once the home has been sold, they will be looking for the next opportunity to build again. The couple have learnt a lot from their experience and are looking forward to creating an even bigger and better property the next time. Watch this space!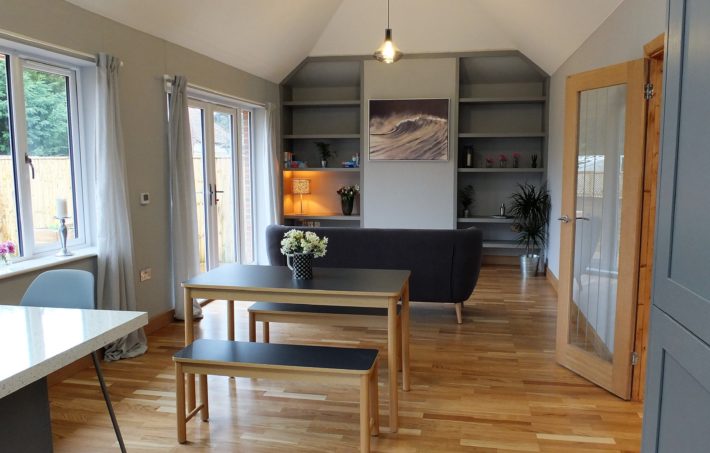 Comment from the self-builders:
"All the team at Scandia have tried hard to make this build go smoothly and have succeeded. From the design process, tweaking the planning permission, erection of the timber frame and help after they had finished their part. I would like to thank Nina for just being great and Gavin who has always answered his phone promptly when we needed assistance, from emergencies for last minute bricklayers, to technical guidance and general problem solving when the hurdles inevitably appear during a build. Thank you Scandia-Hus. This was our first build and we are planning the second, Scandia will be getting another call from us soon." – Dan and Kelly-Jane Edwards