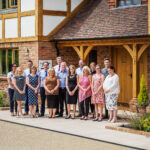 We are Britain's largest designer and supplier of energy-efficient, bespoke Swedish timber frame homes in the UK and over the next couple of years, we will be continuing to expand.
We are looking for individuals who are passionate, determined and enthusiastic to help our customers realise their dream of building their own home.
We are currently recruiting for the following roles:
---
Estimator/Buyer
Responsibilities
As an Estimator / Buyer your duties will include:
* Preparing bill of quantities, cost budgets and estimates for new build house projects
* Maintaining good supplier relationships and explore new supplier options
* Working with Project Managers and the design team to help with the development and innovation on projects
* Focusing on maximising profit and customer satisfaction, while minimising the potential risk to the company
* Ensuring all specifications and details are correct
* Negotiating and buying materials for new build house projects
* Ensuring orders are made to agreed deadlines to avoid disruption to workflow
* Follow orders through to complete deliveries, reconciling shortages quickly and efficiently.
The Person
To be successful in the role of Estimator / Buyer, you should possess the following:
* Relevant experience in a similar role
* Experience in controlling costs, timing and quality in line with targets
* Strong organisation and administration experience
* Good analytical skills
* High attention to detail
* Experience in the construction industry
* Strong negotiating skills
* Fully conversant with Microsoft Office (Excel and Word essential)
* Ideally experienced using design programmes such as AutoCAD with the ability to review technical and construction drawings.
* Able to manage workload proficiently and independently
Rewards
For the role of Estimator / Buyer, there is a salary on offer of circa £30,000 per annum depending on experience.
---
To apply for any of these job vacancies, please email Helen Bedford on hb@scandia-hus.co.uk