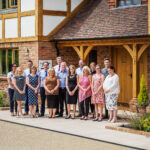 We are Britain's largest designer and supplier of energy-efficient, bespoke Swedish timber frame homes in the UK and over the next couple of years, we will be continuing to expand.
We are looking for individuals who are passionate, determined and enthusiastic to help our customers realise their dream of building their own home.
We are currently recruiting for the following roles:
---
Sales Co-ordinator
We have an excellent opportunity for a Sales Coordinator to join our Show Centre in East Grinstead, West Sussex.
The Role:
As Sales Coordinator, you will hold a vital position within the company, working closely with the Managing Director and Sales Team. You will be responsible for providing an efficient secretarial service to the Sales Team, so you will need to be very organised and efficient.
Responsibilities:
Following up leads generated through marketing and advertising and meeting with customers visiting the Show Centre
Ensuring that customers receive a first-class service before, during and after the construction of their home
Ensuring all visitors and callers are dealt with tact, diplomacy, enthusiasm and efficiency at all times
Acquiring an excellent working knowledge of products, services and overall objectives
Being available for Saturday rota and exhibition work, attending exhibitions and Open Days
Monitoring delivery dates of all company supplied components (windows, staircases, internal doors, ventilation systems, flooring, heating systems, etc.) and charter progress and amend delivery dates as required
Attending regular internal meetings such as weekly tech updates and monthly sales meetings
Liaise with other departments regarding requests for drawings, estimates, shortages/remedials, etc. ensuring that complete details accompany each request
Assisting the Project Manager with:

Selling timber frame kits to meet agreed financial targets
All administrative and organisational duties
Monitoring and following up all general sales enquiries
Setting up customer appointments and managing diaries
Making customer follow-up telephone calls
Monitoring each planning application and liaising with the planning authorities as required
Monitoring each building regulations application in liaison with the technical department
Preparing tender documents, plans and other information for customers as required
The Person:
To be successful for the role of Sales Coordinator, you will need to be someone who is determined to succeed with ambition and drive. You should also possess the following:
Excellent organisational and administration experience
Previous experience in sales activities
A high attention to detail and a 'can do' customer approach
Excellent customer service and communication skills
Proficient working knowledge of Microsoft office
Previous experience in the construction industry would be beneficial but not essential
Be prepared to work out of office hours
Rewards:
For the role of Sales Coordinator, there is a salary on offer of circa £25,000 to £28,000 per annum depending on experience.
---
To apply for any of these job vacancies, please email Sue Dawson at sd@scandia-hus.co.uk