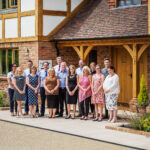 We are Britain's largest designer and supplier of energy-efficient, bespoke Swedish timber frame homes in the UK and over the next couple of years, we will be continuing to expand.
We are looking for individuals who are passionate, determined and enthusiastic to help our customers realise their dream of building their own home. We are currently recruiting for the following roles:
---
Trainee Project Manager
The Role
As a Trainee Project Manager, you will work closely within the sales team, you will become responsible for achieving targets to deliver building sets to self-build clients across the UK. You will need to be very organised and efficient.
Your responsibilities will include:
* Following up company generated leads, meeting with customers visiting the Show Centre and at customers' homes or on site.
* Ensuring that customers receive a first-class service before, during and after the construction of their home.
* Ensuring all visitors and callers are dealt with tact, diplomacy, enthusiasm and efficiency
* Acquiring an excellent working knowledge of the Company's products, services and overall objectives
* Being available for Saturday rota, attending exhibitions and Open Days
* Liaise with other departments regarding requests for drawings, estimates, shortages/remedials, etc. ensuring that complete details accompany each request
Duties
* Selling timber frame kits to meet agreed financial targets
* Monitoring and following up all general sales enquiries
* Making customer follow-up telephone calls
* Monitoring each planning and building regulations application and liaising with the planning authorities and technical department
* Preparing tender documents, plans and other information for customers as required
About You
To be successful for the role of Trainee Project Manager, you will need to have a passion for building & architecture and be determined to succeed with ambition and drive. You should also possess the following:
* Construction, design and or timber frame experience
* Good commercial acumen and negotiating skills
* Previous experience in sales
* A high attention to detail and a 'can do' customer approach
* An ability to read architectural and technical drawings
* Excellent customer service and communication skills
* Proficient working knowledge of Microsoft office
* Previous experience in the construction industry would be beneficial but not essential
* Be prepared to work out of office hours
* Full driving licence
Rewards
For the role of Trainee Project Manager, the salary is from £25,000 to £30,000 per annum depending on experience.
---
Technical Manager
The primary role is to lead, manage and motivate the technical team and to spearhead developments in our technical capabilities.
Key Responsibilities:
* To be responsible for the accurate preparation of detailed construction drawings
* To ensure that all technical drawings and information is of the highest quality, accuracy and meets agreed deadlines.
* To manage and inspire the technical team by setting a strong positive example
* To train, develop and nurture the individual technicians to enhance the quality of service provided to our clients and Project Managers
* To manage all outsourced technicians as required to ensure all works are to Scandia-Hus expectations
* To take the lead in driving a culture of continuous improvement within the design team. To investigate and introduce new technology and systems to keep Scandia-Hus at the forefront of the timber frame market.
* Manage multiple projects at any one time that could be at varying stages of the build
* Produce new house designs, prepare and submit client Planning Applications
* Understanding of the Building Control process and prepare and submit client Building Regulation Applications
* Review and analyse materials and specifications and formulate a strategy to progress and evolve the Scandia-Hus product
Requirements:
* Experience in Structural Engineering or have an Architectural background
* Ideally professionally qualified RIBA/CIOB or Degree in Construction Management or Architecture
* Excellent management and leadership skills
* A dynamic self-starter
* Strong communication skills and ability to work under pressure
* Good understanding of Building Regulations and Planning Permission procedures
* Flexible and able to adapt to change
For the role of Technical Manager, there is a salary in the region of £50,000.
---
Estimator/Buyer
Responsibilities
As an Estimator / Buyer, your duties will include:
* Preparing bill of quantities, cost budgets and estimates for new build house projects
* Maintaining good supplier relationships and explore new supplier options
* Working with Project Managers and the design team to help with the development and innovation on projects
* Focusing on maximising profit and customer satisfaction, while minimising the potential risk to the company
* Ensuring all specifications and details are correct
* Negotiating and buying materials for new build house projects
* Ensuring orders are made to agreed deadlines to avoid disruption to workflow
* Follow orders through to complete deliveries, reconciling shortages quickly and efficiently.
The Person
To be successful in the role of Estimator / Buyer, you should possess the following:
* Relevant experience in a similar role
* Experience in controlling costs, timing and quality in line with targets
* Strong organisation and administration experience
* Good analytical skills
* High attention to detail
* Experience in the construction industry
* Strong negotiating skills
* Fully conversant with Microsoft Office (Excel and Word essential)
* Ideally experienced using design programmes such as AutoCAD with the ability to review technical and construction drawings.
* Able to manage workload proficiently and independently
Rewards
For the role of Estimator / Buyer, there is a salary on offer of circa £30,000 per annum depending on experience.
---
To apply for any of these job vacancies, please email Helen Bedford on hb@scandia-hus.co.uk