British. Bespoke. Beautiful. Self Build with Scandia-Hus.
If you're planning on designing and building your own home, why not consider doing it with us?
At Scandia-Hus we provide a high level of service that matches the high-quality of our timber frame homes. We have a professional and experienced team to support and guide you through your self-build journey, who provide practical and cost-effective solutions to construction challenges. Here are a few more reasons why so many choose us;
Established in 1974, we are the largest designer and supplier of Swedish timber frame energy-saving homes in the UK.
With over 45 years in business, we have a wealth of experience at our disposal, a knowledgeable team and a reputation for combining the benefits of advanced Swedish technology with the best of traditional British architectural style and building craftmanship.
Our homes are beautiful, bespoke and remarkably energy-efficient and to date over 4,000 Scandia-Hus properties have been built throughout the British Isles.
We offer a complete bespoke in-house design service but can also supply a timber frame structure from your own plans.
We prepare and submit planning and building regulation applications, undertaking any negotiations on your behalf where necessary.
Our timber frame homes are all manufactured in the UK.
We have our own highly trained teams who undertake timber frame shell erections all over the UK.
Our building sets include so much more; insulation, triple-glazed windows, plasterboard, staircase, internal doors and joinery.
Triple glazing, high levels of insulation and air-tight construction, mean heating costs are substantially reduced and living standards are greatly enhanced.
We provide assistance with your chosen build route; self build, project management, main contractor, or turnkey, providing site support and technical back-up throughout your project.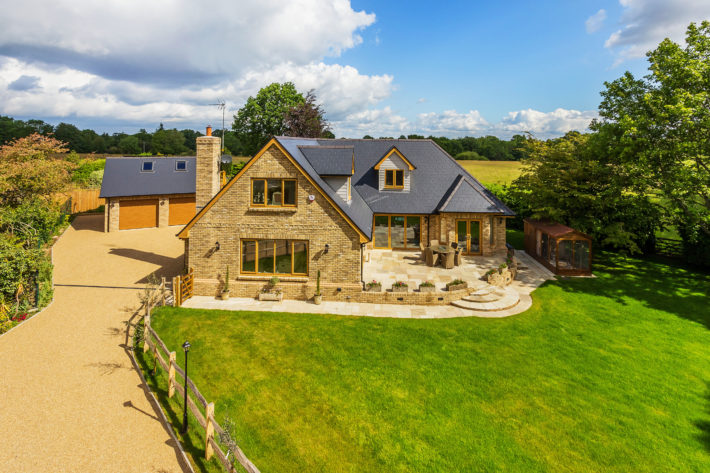 Please click here to download Fact Sheet No.1 – Why Choose Us.