Having harboured a dream to build his own home since the age of 11, Tim seized the opportunity to buy a property which he felt had the ideal plot on which to fulfil his ambition.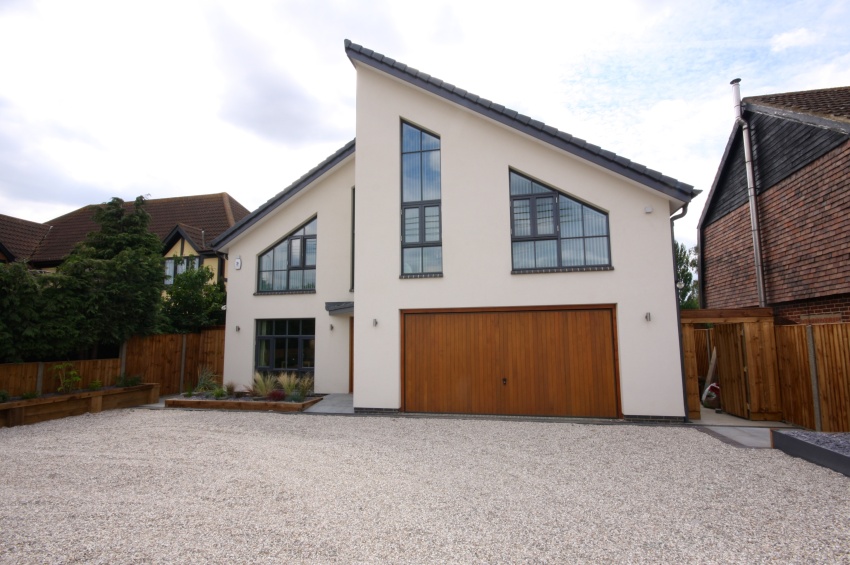 The location was ideal – in an area both Tim and his wife had grown up in, very close to both families and with a view of the Church where they had got married.
As part of his self-build research, Tim attended the Grand Designs Live exhibition in the Spring of 2008. He visited the Scandia-Hus stand and stressed how he wanted to build using modern architecture whilst using the best materials. Tim had a very strong idea of the style of property he wanted – timber frame with lots of glass and light and had drafted the first set of plans accordingly. It was very apparent from this that Tim had a natural talent for house design and a strong sense of what he hoped to achieve from his build. Whilst Scandia-Hus offer a wide range of standard designs, their full bespoke service is often what customers opt for – the standard designs often provide a starting point from which a mix of styles and designs are often incorporated into the finished plans.
Once planning permission was granted, it was all systems go. It was quite an undertaking for the whole family as, whilst Tim was busy on the project, his wife and 1 year old twins stayed with her family – it is worth pointing out she was also expecting their 3rd child!
By the time the order was placed with Scandia-Hus in March 2009, the existing property had been demolished, and the ground works and site preparation were well underway. Delivery of the frame took place on 11th May and the shell was erected, the large windows installed and the building weather tight in just 10 days!
Whilst project managing the site and spending as much time as possible with his family, Tim also had his own business to run. As a result, he would be working on the new home from 7am until 6pm, and then catching up on his other work! No easy feat by any standards. Tim had renovated houses before but had never attempted a self-build.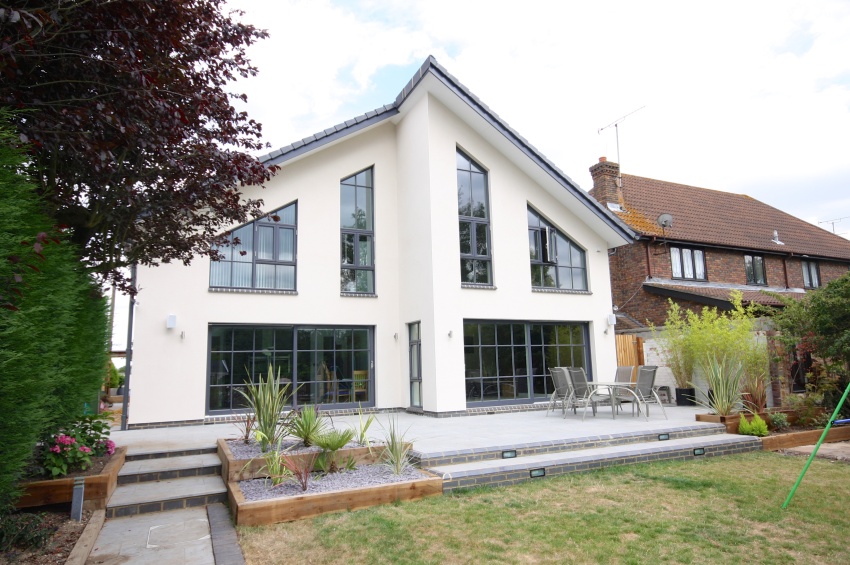 Tim is delighted with the end result – the triple glazed large windows allow the light to fill the rooms. Tim also incorporated many extras which he is delighted with – underfloor heating, surround sound system, a heat recovery system, a sun tube (one of his favourite features) and downlighters. The end result is a stunning 5 bedroom home with 3 en-suite and 1 family bathrooms. The twins jumped up and down with delight when they first saw their playroom.
To look at this contemporary house design in detail, please click here.