Self Build Advice: FOCUS – Architectural Styles: Contemporary
Categories: Self Build Advice
There's a considerable range in style when it comes to contemporary architectural designs; the shape of structures, as well as their exterior finishes, can vary significantly. The roofline may be angled or flat, the form balanced or asymmetric, the externals clad with timber, render, stone, brick, or a mixture of materials. However, buildings of the present day do have a few key features in common, particularly the focus of maximising light and space.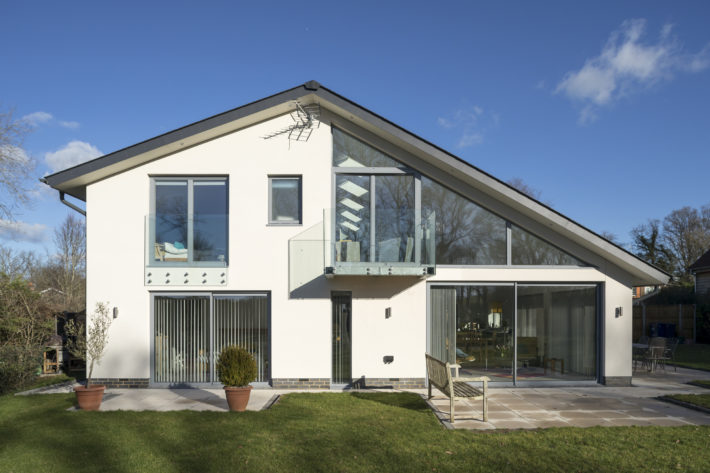 Contemporary Home Characteristics:
Open Plan Layouts – efficient use of space is increasingly important, as land value rises, plots are becoming more expensive and therefore designing a home that makes the most of the available space seems sensible. With minimal doors and walls, shared areas of a contemporary home are generally open with kitchens, dining and sitting areas all part of one room. Floorplans are functional, with modern family living in mind.
Abundance of Glazing – floor to ceiling windows, rooflights and shaped gable glazing are all popular in contemporary home designs. Not only do they provide interesting architectural features, but they also exploit the natural sunlight available, illuminating the interiors. Large bi-folding and sliding doors opening onto the garden are prevalent with the desire to promote an indoor/outdoor feel and extend the living space outside.
Innovation – contemporary homes use the latest technology in construction. Using modern materials and building methods, new homes can take on challenging forms, unique exterior finishes and smart home features. Lighting, heating, ventilation, security, entertainment and more can be digitised and personalised. Due to the ease of nationwide or even international transportation, materials needn't be restricted to those available locally. Brick, stone, timber, SIPS, concrete, steel or any other material can be used in the construction and cladding of a contemporary home, although planning restrictions may influence the choice.
Sustainability – with the environment high on the UK political and social agenda, creating an eco-conscious home is more crucial than ever. Building regulations have compelled architects and builders to prioritise the issue in terms of limiting the impact housing has on the environment and future-proofing designs. U-values and energy efficiency are important factors, as well as using renewable energy, recycled and natural materials.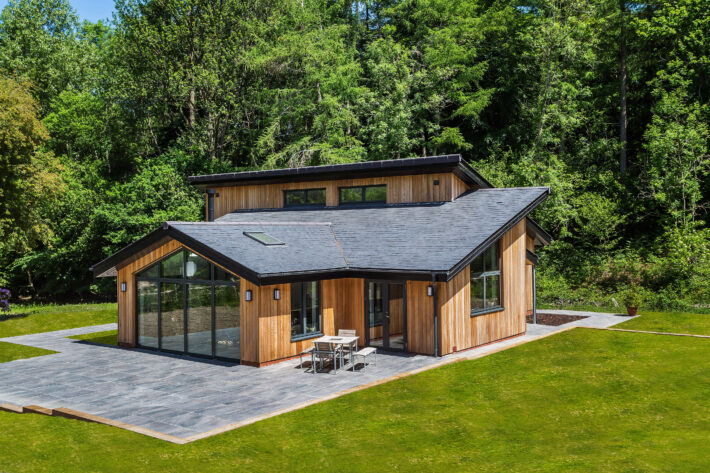 Utilising these particular design elements can add a contemporary touch to any house type. A property may be predominately traditional in style but include generous amounts of glazing and incorporate an open plan layout to give it a contemporary edge.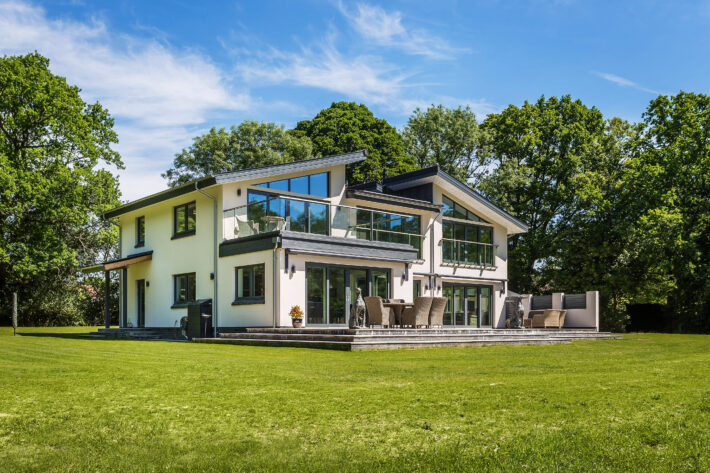 To take a look at our contemporary home designs, please click here. You can also order a copy of our new contemporary designs brochure, containing 3D images, floorplans and elevations for 20 bespoke homes.