With the superstructure watertight, the first fix can get underway.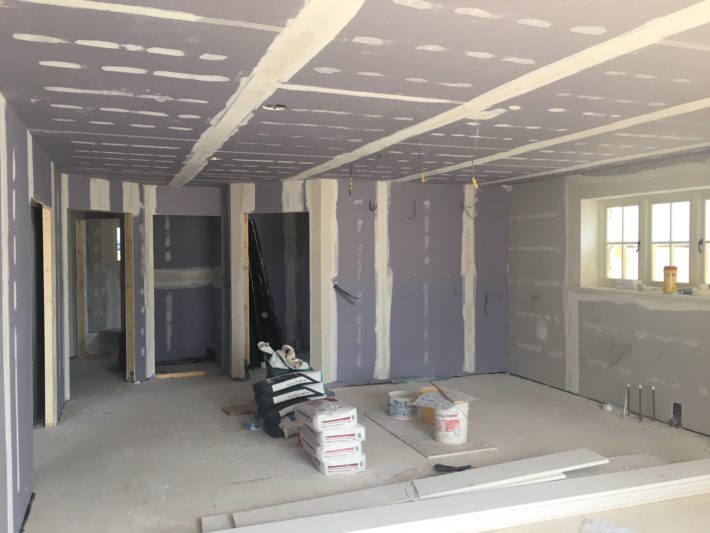 This stage of the project essentially consists of all the work needed before the walls are plastered or 'tape and jointed', this includes:
• Electrics – cables will be installed for the electrical supply in your house. First fix electrical work prepares the building for lights and power, your electrician will be fitting wiring for sockets, telephones, internet, TV, satellite, home entertainment, smart systems, CCTV, security, fire alarms and anything else in your design that requires electricity. Carcass wiring and back boxes will be installed as will your consumer unit (previously known as the fuse box). Most of the work completed in this phase will be hidden within the walls and ceilings, behind the plasterboard and is therefore not seen once your home is finished. To minimise disruption on-site ensure you have designed the electrical layout before the electrician commences work. You will need to have decided in advance where and what type of lights you'll have in each room, as well as the number and location of sockets and switches. Building with timber frame allows you the opportunity to stand in the rooms prior to any cabling being installed. This is a real advantage in being able to finalise your electrical layout which is great because changes at a later stage are likely to be difficult and expensive. Price and duration of work will be affected by the number of rooms you have, and your desired specification and fit-out.
• Plumbing – pipework will be installed for space heating, water supply and wastewater drainage for your home. Your plumber will fit hot and cold feedpipes, connect soil pipes and drains, as well as installing and commissioning the central heating system, and any ventilation or air-conditioning systems you may have chosen. The exact locations for sinks, toilets, showers and baths and any other appliance that requires water will need to be confirmed before your plumber begins. Once installed, pipes will be pressure tested to ensure all connections are secure and no leaks are detected. Again, most of the work completed here won't be seen when your home is finished. Many self-builders are now opting for underfloor heating (UFH) in their new homes rather than conventional wall-hung radiators. The key advantage of this system is a lower running temperature; because the pipes cover a larger area, the heating can be maintained at a lower temperature to achieve the same result. It also frees up wall space for feature glazing or furniture, providing greater flexibility in the interior design.
• Carpentry – your carpenter has a key role in the 'first fixing' of a timber frame property. Non-load-bearing walls will need to be constructed on the first floor, timber noggins and blocking pieces installed and the chipboard flooring fitted to intermediate floors. Carpenters will also normally oversee the fitting of the insulation which is critically important to the energy performance of the dwelling. The boxing-in of pipework and fitting of internal door linings will also need to be completed prior to plasterboard being fitted. On rare occasions, some timber staircase elements may also be fitted but any joinery quality items will be installed once full decoration has occurred.
Workers on-site will need to liaise and work together to successfully progress first fix as there will be various overlaps between the trades. An inspection by building control will be required at this point in construction to ensure your home adheres to all regulations. Once first fix electrics and plumbing are complete then structural battens will be fitted and plasterboard can be fixed to all walls and ceilings ready for plastering or taping and jointing.