Once the substructure has been completed, you are officially 'out of the ground'. Where substructure is everything in the ground, superstructure is the structural part of the building above foundations, i.e. the timber frame. This stage of your project is about creating a structurally complete shell; you'll need the walls up, supporting steels or beams fixed and the roof on.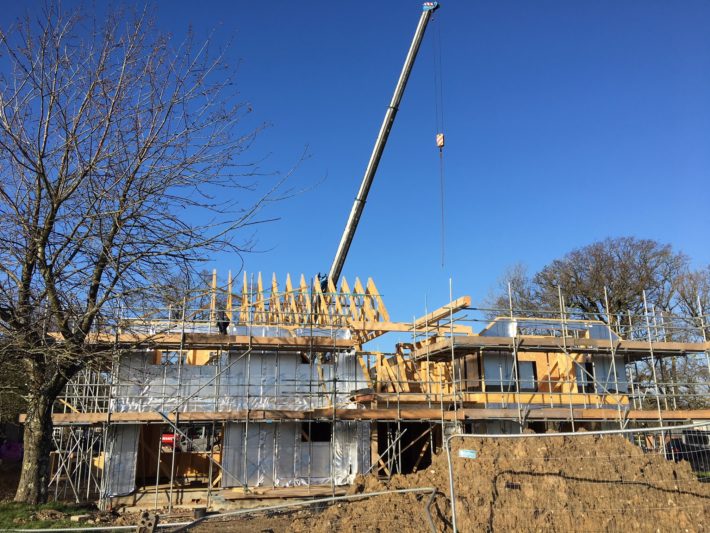 Timber Frame Construction
Prior to delivery of the timber frame, scaffolding will need to be erected around the perimeter of the footprint. The factory manufactures the panels and delivers them to site on suitably sized lorries. The frame consists of truss graded timber studwork with OSB (Oriented Strand Board) fixed to the exterior side. This is known as an 'open panel', it is 'closed' once insulation and plasterboard have been installed. A breathable membrane is factory fitted to the outside of each panel which acts as a waterproof barrier, this will then be covered by your chosen external cladding (brickwork, stone, weatherboarding, tiling, or render).
On delivery of the timber frame to site, ground floor wall panels are erected first, these are secured to a concrete block upstand which would have been constructed as part of the groundworks. On buildings with more than one level, intermediate floor joists are fitted, then the first-floor timber frame panels can be installed. The prefabricated roof trusses are positioned and secured into place, covered with a sarking board, felt and counter battens ready for tiling. Structural and non-structural internal stud wall partitions are formed between the external load-bearing panels to create the separate rooms of the house. At this stage, you will have a structurally complete shell which will allow work to begin simultaneously on the inside and outside of the house.
The roof is normally tiled first as this applies a great deal of weight to the frame and increases stability. Windows and external doors are then fitted into the prepared apertures and this ensures the complete waterproofing of the frame. The ground floor slab will be insulated and screed laid on top ready for the finished floor covering. Insulation will be installed within both the internal and external wall panels, intermediate floors and roof.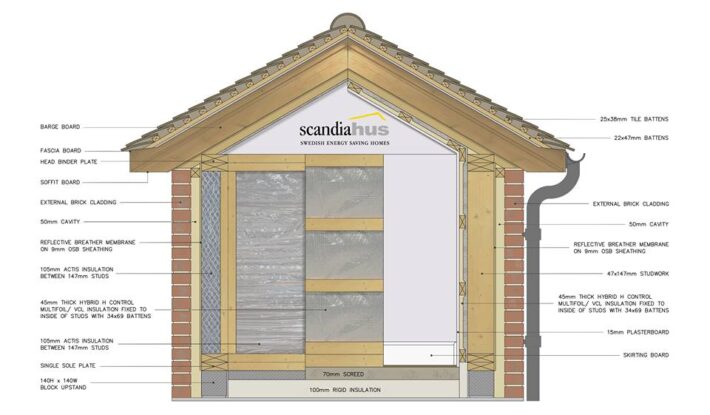 Benefits of Building with Timber
There are of course different options for building the superstructure of your home, but an increasing number of people find that using timber frame as their method of construction provides numerous advantages.
Cost – Building with timber provides a greater degree of cost certainty as the frame, along with the design work, delivery and assembly are calculated and charged as a package. This allows you to know in advance the exact cost of the supplied and installed superstructure. This method is also less impacted by inclement weather so unexpected delays and subsequent costs are kept to a minimum. These factors, along with the low running costs of a timber frame home, are some of the major attractions of building with wood.
Quality – As the timber frame structure is meticulously manufactured to extremely exacting standards under strict factory-controlled conditions, a consistently high quality can be sustained. This construction method marries the design and build processes allowing a higher degree of accuracy than other systems. Less reliance on site labour means there's less scope for human error.
Environmentally Friendly – The eco-credentials of building with timber frame is a key consideration for many self-builders. Not only is the timber used sourced from sustainable forests meaning it is renewable and low impact, it also helps to create an airtight energy-efficient structure. Combining the timber frame with triple glazed windows and high levels of insulation produces a thermally efficient home with stable internal temperatures all year round, and therefore reduced fuel consumption.
Flexibility – A timber frame home can meet the needs of almost any self-builder. Each property is a bespoke design tailored to the individual in terms of layout, style, budget and plot restrictions. Timber-frame houses can be clad in brickwork, render, stone, tiles, or weatherboarding and can be given a traditional or contemporary appearance to suit its owners preferred style. Design and build packages can also include or exclude any number of elements. Clients can simply purchase the structural frame or employ the company to take the build through to completion. They may already have architect drawn plans and/or a builder in place, or be at the very beginning of their journey.
Build Time – A timber frame structure is erected swiftly, allowing a rapid overall build process. The ability to construct the home in all weathers, unlike other systems, means there are fewer chances of disruption and delays on site. A structural shell is usually up within a few weeks, even in wet conditions. People opting to use timber frame as their method of construction are often pleasantly surprised at the short time it takes for their building to become a reality.