Manufacturer of high-quality brick solutions.
Vandersanden UK is a family-run company and one of Europe's largest manufacturers of bricks. Supplying the highest-quality brick solutions, a result of more than 100 years of experience, they are renowned for their innovation, sustainability and craftsmanship.
The company produces a vast array of high-quality bricks, brick slips and brick solutions in different finishes and colours, ranging from reds and browns to greys, creams and buffs that will inspire and enable the design and construction of beautiful homes and buildings.


As a company, Vandersanden is focused on sustainable manufacturing and all its brick factories are certified to ISO 14001, the recognised standard for environmental management. The bricks are made from completely natural elements including clay, sand and water and 100% of the raw material is turned into a brick. It means the production efficiency is 100% and allows for zero waste. The clay used is extracted from rivers in a renewable system and at the end of their life, the bricks can be reused or recycled. Robust and requiring little maintenance, a brick facade benefits from enduring beauty. Using sustainable products with a long life expectancy minimises potential impact on the environment, an objective that is fundamental to our philosophy at Scandia-Hus.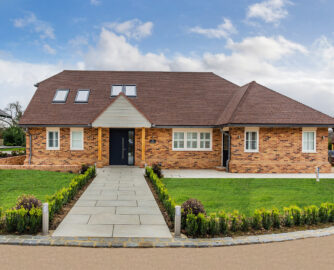 The bricks cladding the exterior of our newest show home,
The Mulberry
, were selected from Vandersanden's extensive range.
These facing bricks display a mixture of orange, brown and yellow tones, achieved by using specific sand types for the surface covering in the manufacturing process. The colour and grained texture of the 'Hailsham Mix' bricks give the show home a characterful look.
The varied colour and texture options available allow bricks to suit almost any design. Bricks can be combined with render, hung tiles, timber cladding, or even stone to create the required style.