Authentic timber window alternatives with the benefits of modern materials.
The Residence Collection window and door systems are designed to authentically replicate 19th Century timber designs in modern materials. British design and manufacture, created with British Architecture in mind.
The Residence Collection have transformed the choice that homeowners have, offering an authentic timber window alternative with all the benefits of a modern-day low maintenance material. Championing British craftsmanship, the Residence Collection offers a suite of thermally and acoustically superior window and door systems, featuring the latest security and performance innovations.


The Residence Collection consists of three different window options, Residence 9, Residence 7 and Residence2 all of which look identical from the outside, with a perfectly flush exterior. Internally each one has their own unique aesthetic.
Residence 9 has a decorative inside around the frame and transom replicating that timber look and feel.
Residence 7 is contemporary and has a fully flush interior too.
Residence2 has a square edge bead internally, really giving it that aluminium feel – very modern and the architectural highlight of the collection.
With one of the highest performance classifications available; Class 4 Air Permeability; Class E900 Water Tightness; Class B5 3000Pa Exposure. 100% recycled sections are also included within for added sustainability. 44mm glazing can achieve up to A++ or 0.74W/m²K (Passivhaus standard) and 28mm glazing can achieve up to A or 1.23W/m²K.
Led by the latest in interior and exterior trends, the Residence Collection offers over 25 colours as standard for a truly bespoke home. As well as many dual colour options, for example Eclectic Grey externally, with Irish Oak internally or Cotswold Green externally with Grained White internally.
Every window made is bespoke for the homeowner, transforming homes with luxury windows and doors from The Residence Collection.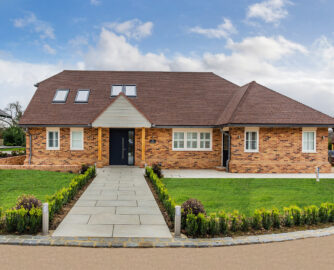 The windows chosen for our newest show home, chalet bungalow
The Mulberry
, were supplied by The Residence Collection.
The desired look was inspired by character cottage aesthetics; the timber alternative products selected from the Residence 9 system successfully replicate traditional windows and the incorporation of Georgian bars along with the 'clotted cream' colour combine to create a classic design.
However, the thermally efficient 9 chamber construction and maintenance-free material ensures that contemporary living is considered.