Experts in stylish wine preservation.
Spiral Cellars are passionate about providing the perfect cellar experience. With 40 years of knowledge and expertise under their belts, they have created more than 4,000 luxury custom wine cellars in the UK alone and numerous others across the globe.



Their portfolio of custom wine storage solutions is unrivalled, including bespoke walk-in wine rooms, state of the art wine walls, elegant wine cabinets and of course, their eponymous underground Spiral Cellars.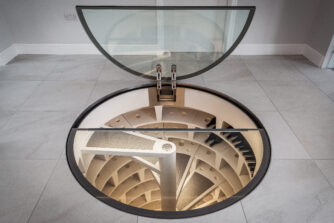 The innovative spiral wine cellar in the open plan kitchen of our new
Mulberry
show home provides a luxury edge to the room. The cellar is neatly concealed within the floor and a staircase descends underground where the perfect conditions have been created for optimum wine preservation. The ingenious design by Spiral Cellars enables hundreds of wine bottles to be kept at the ideal temperature; its solid concrete construction and built-in natural ventilation combine to create the required conditions and the spiral design viewed through the glass door is an impressive means of providing this professional wine storage solution.