Actis specialises in the design and manufacture of innovative building insulation solutions.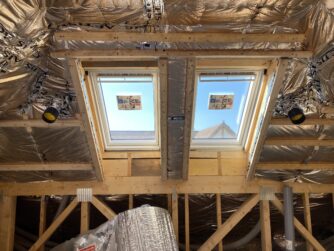 We have used Actis insulation products on all three of our show homes, as well as countless customer properties. The speed, ease of installation, cleanliness and thermal efficiency of its Hybrid range makes it the ideal system to use on self-build projects.
Hybrid panels are easy to cut to exactly the right size so they simply slot into place, minimising wastage and speeding up installation times, which can be up to 30% quicker than using traditional methods.
Actis provides optimum comfort for both installers and end-users. The Hybrid range doesn't produce dust, leaving the site clean and eliminating the need for respiratory protection.
Actis Hybrid products eliminate thermal bridging by helping to ensure an airtight envelope; comfortable temperatures are achieved in both winter and summer, contributing to lower energy bills throughout the year.



The Hybrid system is a range of 4 products that offer insulation, airtightness, acoustic performance, vapour permeability, moisture resistance and reflective properties. The Hybrid system can achieve the highest U-value requirements with minimal thickness.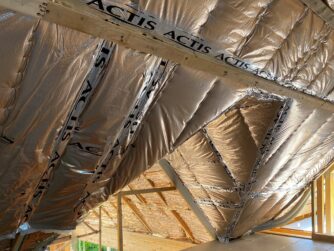 Contractors installed Hybris and insulating vapour control layer HControl Hybrid in the pitched roof and walls of our newest show home,
The Mulberry.
The structure of the Hybris product is a unique honeycomb design with a network of closed cells that trap heat and provide excellent thermal performance. The reflective insulation product reduces the amount of additional insulation required. HControl Hybrid is a thin multifoil insulation product with a built-in vapour control function to be used on the warm side of insulation material, providing dual properties within a single product.
To find out more about Actis visit our show centre where we have a dedicated Actis area in our product display space.