Manufacturers of space making pocket door systems.
Portman pocket doors are ideal when design flexibility and/or space-saving are important. The practical system is an efficient alternative to conventional swing doors, making the most of the space in a room. Instead of hinges, these doors operate on a sliding track, conveniently disappearing into a compartment in the wall cavity. Unobtrusive in a room, it allows surrounding walls to be used, with the freedom to place furniture next to the opening. Being able to slide a door within a wall and out of the way saves approximately 10sq.ft. of floor area.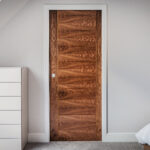 We selected pocket sliding door systems from Portman for our new chalet bungalow show home,
The Mulberry
. Designed and produced in the UK, the system comprises the latest sliding door technology, quality robust components and an exceptionally easy installation. There's no bottom rail mounted to the floor, which avoids trapping dust and creating a trip hazard, as well as allowing flooring to flow through rooms uninterrupted. Door leaves are held in place by high-quality rollers to prevent wobble or sway, which will provide years of maintenance-free and consistent high performance.