Balconette specialises in the manufacture and supply of balustrading solutions.
Balconette specialises in the manufacture and supply of bespoke Glass Balustrades, Glass Juliet Balconies, and Curved Glass Sliding Doors. Trading in the UK since 2004, Balconette welcomes projects requiring specific balustrading solutions.
The Hybrid® Aerofoil Glass Balustrade System

The Aerofoil system's unique and aesthetic wing-shaped handrail gives the feeling of both sturdiness and a distinct architectural statement. When the handrail is fixed wall to wall, the Aerofoil balustrade can run to 4 metres without posts for any single balustrade run, and up to 12 metres without posts for a 3-sided balustrade. When posts are required, spacings between posts run to an impressive 2.1 metres. The posts sit behind the glass enabling the rail and glass to run in front of them.
The Hybrid® Orbit Glass Balustrade System

The Orbit Glass Balustrade system with its elegant circular handrail, enables single balustrade runs of up to 3.3 metres without posts and up to 9.9 metres for a 3-sided balustrade when the handrail is fixed between a structure, such as a wall. When posts are required the Orbit balustrade achieves spacings of up to 1.9 metres between posts. The system has a 70mm circular handrail and utilises a 55mm circular post, but also offers a variety of post options including square newel posts for stairs and privacy screens.
SG12 Frameless Glass Balustrade System

Frameless glass gives the ultimate in unobstructed, wide-open views. Double-sheeted toughened, laminated glass is used along with a structural bottom channel that can be mounted either above or below floor level. No handrail or posts are required in the Frameless system, but a decorative handrail or capping can be attached to the top of the balustrade, as required.
Glass Juliet Balconies


A Juliet balcony is a barrier that protects a fall from height for example, from inward opening French doors installed on an upper level. It is not a balcony that one can step out onto, but rather a glass guard rail placed across the outside of an opening that enables clear open views. Balconette's glass Juliet balconies come in four system types, three of which employ handrails: Orbit, Aerofoil & Orbit Mirror, with the Frameless Juliet comprising only a single pane of toughened laminated glass and two aesthetic side profiles. The characteristics of each system offer their own advantages and solutions.
Curvaglide® Curved Glass Sliding Doors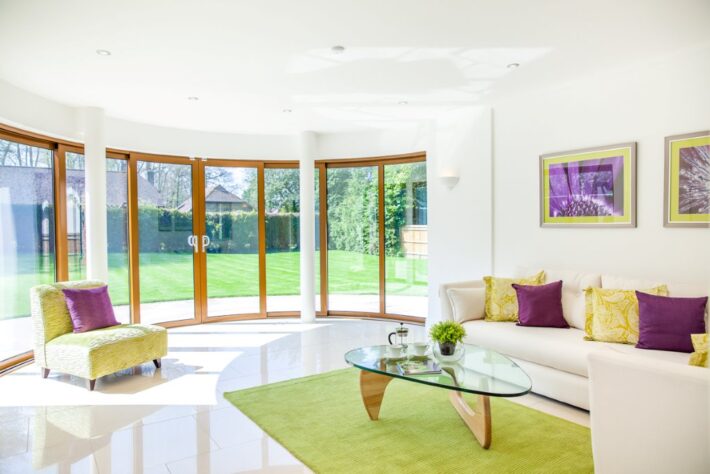 Curvaglide® Curved Glass Sliding Doors come in a variety of configurations, from two sliding curved glass doors (W2), up to an eight-door configuration (W8-4F) that allows approximately two-thirds of the opening to remain free. All Curved Glass Sliding Doors are available with thermally insulated aluminium sections and are supplied with high-performance Low-E Glass for better thermal efficiency. The double glazing is 28mm thick and toughened on both sides for safety. Each set of Curved Glass Doors additionally comes with a multi-point locking mechanism.