Once the planning process is complete and a firm approval has been received, it's time to start the building regulations procedure. This essentially occurs in two phases –
Plans Check:
The scheme that has been permitted has to be checked by the appropriate professional with regards to the construction and fabrication of the structure to ensure it conforms to the health, safety and environmental regulations in place, safeguarding the stability and integrity of your new home. This tends to be the local authority but approved private inspectors are also an option. To apply for building regulation approval, drawings similar to those compiled for planning are required but will need to contain full constructional details.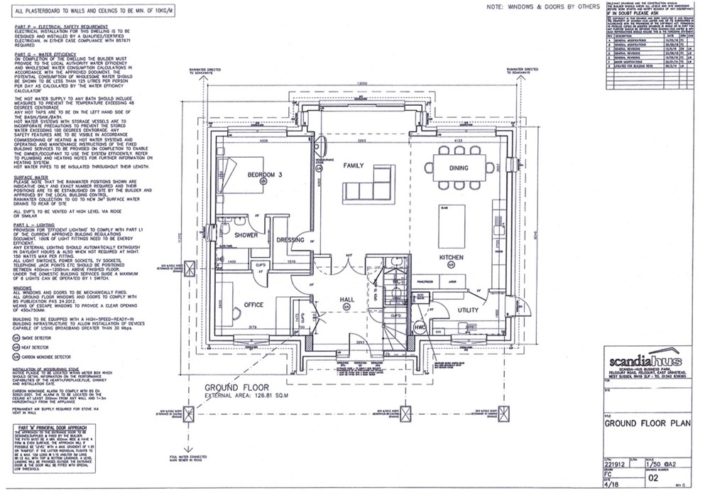 Elevations – a view of the structure from all elevations showing information on ridge heights, exterior materials, as well as locations of windows and doors should be submitted.
Floor Plans – your room layouts should be accompanied by a high level of notes specifying drainage, electrics, wall thicknesses, as well as other fabrication details.
Site Plan – including boundaries and drainage layouts.
Sections – a cut-through of the property. This allows regulations such as finished floor levels and head heights on staircases to be checked.
Site Sections – a cut-through of the land showing drainage and other details.
Specification – this highlights a wealth of information including external cladding materials, insulation information, wall thicknesses, floor and ceiling composition etc.
Application Forms – these can be downloaded from the local council's website.
EPC – Energy Performance Certificate – your house will receive an energy performance rating from A to G. Many aspects are considered in the calculation of this, including insulation levels, glazing and heating systems. An assessment based on the plans will be conducted at the beginning of your project giving a predicted rating, but this will use assumptions. Once the build is complete and all the information is known, an accurate EPC rating can be given and a final certificate produced.
Soil/Porosity Test – this is an analysis of the soil on-site to determine the foundation requirements; how deep foundations need to be, drainage conditions, whether standard or more complex groundworks are necessary etc.
Foundation Design – this depends on the soil test and will set out the footprint, perimeter and depth of foundations.
Roof Construction Drawings – this shows the fabrication of the roof structure.
Structural Calculations – a structural engineer will need to provide these.
Site Inspections:
Conditional approval will be given if your plans comply with building regulation standards. Full approval cannot be granted until the build is complete. Your site will be inspected at regular intervals by a building inspector as the project proceeds to ensure you are adhering to what was agreed. Construction may be halted at any time if the inspector cannot sanction what you are doing or, if due to conditions evident on-site, changes need to be made. It's important that you work to the regulations and provide the necessary information when asked to ensure progress is not disrupted.
Commencement – before starting works you will need to call building control for the inspector to assess the site.
Foundations – the inspector will want to see the soil conditions to ensure the correct foundations will be laid.
Damp Proof Course – once groundworks are finished the damp proof course will need to be correctly fitted.
Timber Frame – the inspector will ensure all elements of your timber frame are compliant, reflecting the structural design drawings and calculations produced.
Roof Framework – the roof structure will also need to be checked against the structural design drawings and calculations.
Drainage – manhole positions will be reviewed as will soakaway installations and other aspects of drainage.
First Fix – internal works before the fitting of plasterboard are known as 'first fix'. The insulation, cabling for electrics, plumbing and other elements will be examined at this stage.
Completion – final inspection. Once everything is approved you will receive a completion certificate. This document is important and will be required for VAT reclaims. You will have 90 days from the completion certificate date to submit your VAT reclaim.