You're so close to the finishing line! All that's left to do is decorate and furnish your brand new bespoke property. Many self-builders find this the most exciting stage of the project when they can inject colour into their space and add soft furnishings to make it feel homely.
Once the other trades have left, you or your contractor should thoroughly clean the property and remove all waste, debris and dust to ensure the decorative finish is the best it can be. All walls, ceilings and woodwork should have already been prepared for finishing but do ensure there are no holes or blemishes visible, ready for the paintwork.
When deciding on interiors it's a good idea to begin with a mood board, you can use magazines and books, as well as websites and apps like Pinterest to gather your inspiration in one place. This allows you to organise concepts for each room and ensure that certain colours and patterns are likely to work well together.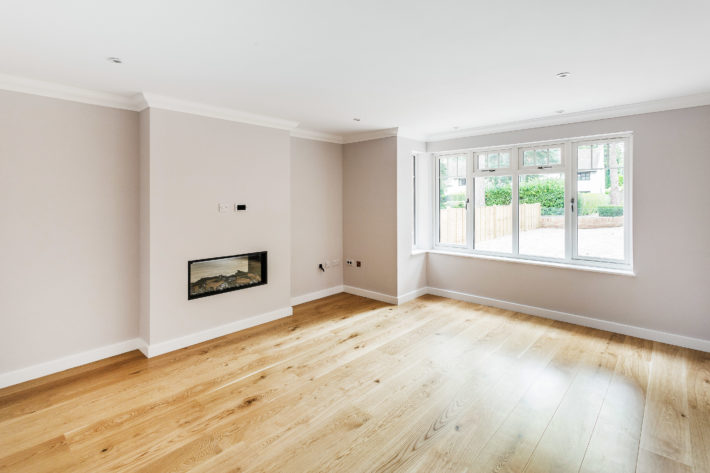 It's important to get the interior design of your new home right as it can affect the atmosphere and general feel of the property and therefore your enjoyment of it. There are many aspects to consider, including;
Wall Finishes: will you be using paint or wallpaper? Tiles or panelling? Think of the function of the room, the finish should look good but also be practical. If painting on plasterwork, a mist coat of paint or stabilising solution will be required, plus at least two coats of emulsion. Internal timber will need to be primed, undercoated and then finished with a topcoat or alternatively, a stain can be used. Tiles are usually only applied to the walls in bathrooms, kitchens and utility rooms. If you are planning to wallpaper a room it may be worth waiting a few months before doing this as new building materials, such as fresh plaster, need time to dry out and small cracks may appear in the walls. This is normal, but it may damage any wallpaper you put up. There are a few ways you can minimise cracking from the drying process; try not to overuse the heating to allow the plaster to dry naturally, and ensure you regularly open windows to ensure your home is ventilated. Breathable paint like matt emulsion is a sensible option as it doesn't affect the plaster drying, but do keep some paint saved ready for any touch-ups that may be needed.
Colour: The colour of a room can really impact the mood. For some, neutral tones suit them best, creating a calm feeling throughout, others prefer a splash of bright colour to bring energy and positivity into the space. Whatever your preferred style and colour scheme, ensure it works with the furniture you plan on using and is a shade that you can live with for a while, you don't want to have to redecorate too quickly!
Flooring: Flooring material choices include carpet, timber, laminate, vinyl and tiles. Think about the feel underfoot, the function of the room, the need for it to be easily cleaned, the size of the space and therefore the likely cost. Carpets are ideal in sitting rooms and bedrooms, whereas areas that lead directly outside should be water-resistant.
Landscaping works may also be completed now if the budget allows. This includes garden planting, patio/decking creation, lawn laying, fence painting or wall building and driveway construction. If the budget is tight, these finishing touches can be postponed to a later date. You can rid your plot of the site hut, storage containers and other work facilities and re-use the top-soil you kept when clearing the area for groundworks.
And don't forget the windows. After decorating clean the windows inside and out thoroughly. There's nothing worse than dirty windows in a freshly decorated room!
Now, what are you waiting for? Get ready to move in!