Edge Building Products sell a wide range of low maintenance building products.
With trade counters in Croydon, Horsham and Chichester, the range focuses on exterior fittings including roofline products, external cladding, windows, doors, rainwater systems and more. Edge Building Products' mission is to provide the trade with the very best:
– Range – Edge Building Products offer an extensive range of low maintenance building and glazing products. The variety of exterior fittings is the broadest on the market, especially for coloured glazing products with uPVC foil laminations.
– Service – The company provide excellent customer service, ensuring staff are helpful, supportive and proactive at every stage of a project.
– Price – With competitively priced products, their focus is on delivering value to every customer.
– Brands – Edge supply products made by leading manufacturers including Swish, Origin, Liniar, Soudal, Smart Aluminium Systems, Freefoam Building Products and more.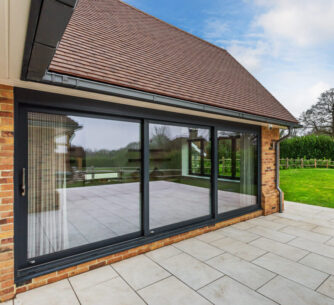 The low maintenance roofline products for our new show home,
The Mulberry
, were supplied by Edge Building Products.
Roofline products help to protect the externals of a building from weather; they are fitted to the outer edges of the roof as a barrier to ensure the property is not damaged by rain. They include the soffits and fascias; the former is the horizontal board that hides the underside of the roof, the latter is the vertical board that guttering is usually fixed to.
The look of these products has an important impact on the overall aesthetic of the home. We selected soffits in a cream colour to match the windows and dark grey fascias to blend with the metallic anthracite finish of our guttering.