We can help turn your self build dreams into reality with our energy-efficient, bespoke, timber frame homes.
Scandia-Hus have been building timber frame homes in the UK for over 45 years. We design and build beautiful, bespoke and remarkably energy efficient properties for our self build clients.
We have Scandinavian roots, but our show centre is located in Sussex and we use a factory in the UK to manufacture our timber frame kit houses. The result is the successful combination of all the benefits of advanced Swedish technology, with the best of British architectural style and craftsmanship. Our in-house architectural technicians, 3D designers and project managers work closely together to ensure the finished building is exactly what our customers imagined.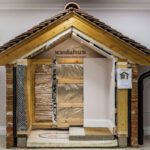 Scandia-Hus are passionate about building eco-friendly, sustainable homes for the future. We believe that energy-efficient design is essential in any new property, with benefits for both the homeowner and the environment. Building with timber sourced from sustainable forests is an environmentally-friendly choice; it is renewable and helps to create an air-tight structure. We also have extensive experience in renewable energy technology.
We encourage you to visit our show centre to see for yourself the high specification and immaculate finish of our timber frame kit homes. We have a wealth of knowledge and information available, please do not hesitate to contact us if you have any questions or would like to discuss your self build project – 01342 838060 / sales@scandia-hus.co.uk
British. Bespoke. Beautiful. Self Build with Scandia-Hus.



Our new show home, The Mulberry, is now complete! The three-bedroom chalet bungalow's construction has been documented in our build blog which offers advice to self-builders and highlights recommended suppliers, click here to read. The Mulberry is now welcoming visitors, please contact us to book your appointment.
Our newest case study, "First Build Fate", is now on the website. The exceptional 5-bedroom home has a contemporary mixed exterior finish of brick and Accoya cladding. The black Crittall style triple glazing, fabricated from timber and aluminium, not only adds to the unique character of the outside aesthetic but also enhances the thermal efficiency of the structure.
COVID 19 UPDATE: Our show centre is open. Visits are by appointment only, and all covid safety measures are in place to protect both our customers and staff. Please contact us on
sales@scandia-hus.co.uk
or 01342 838066 for more information and to book.