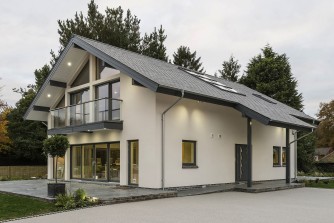 Join our team 
Scandia-Hus build beautiful bespoke energy-efficient timber frame homes. We pride ourselves on our high levels of customer service and over 40 years experience of working with timber-frame. Over the next couple of years we will be continuing to expand our show centre here in West Sussex. Work has already got underway for our new show house office.
We are looking for individuals who are passionate, determined and enthusiastic to help our customers realise their dream of building their own home.
We are currently recruiting for the following roles:
---
MARKETING EXECUTIVE
Due to company expansion an exciting opportunity has arisen for a Marketing Executive to join the Scandia Hus team.
This creative role covers a wide range of marketing activities with the opportunity to suggest and input new ideas to further raise our brand awareness and profile.
Duties include:
• Design of all company promotional literature
• PR, magazine and online advertising in a range of Self Build Publications
• Liaising with suppliers for joint marketing opportunities
• Planning and organisation of exhibitions, seminars and open days
• Managing and updating the company website
• Implementing a new social media strategy
• Writing self build blogs to help guide customers in their own self build journey
• Writing the monthly newsletter
• Promotion of the Self Build Centre located at our offices
• Involvement with ad hoc wider business projects
Successful candidates should possess the following:
• Excellent interpersonal, communication and IT skills
• Organisation skills with the ability to prioritise
• Copywriting, creativity and design flair essential
• Experience of working within a marketing environment
Please forward a covering letter and a copy of your CV to nm@scandia-hus.co.uk
---
TIMBER FRAME DESIGNER
Duties include:
• Production of working drawings suitable for manufacturing purposes for bespoke residential properties
• Preparation and submission of building regulation applications
• Preparation of working and manufacturing drawings
Successful candidates should possess the following:
• Good communication skills
• Good AutoCAD skills
• An organised and methodical approach to working, with excellent attention to detail
Please forward a covering letter and a copy of your CV to tj@scandia-hus.co.uk
---